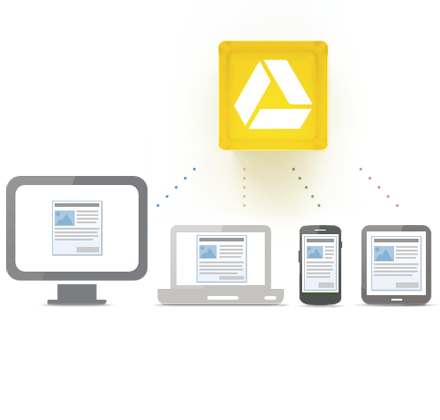 Even this service, Google Drive, had some rumors but from today on, we can use it with free and paid service. Do you know what's Google Drive and how does it offer?
Google Drive
is a cloud-computing storage (
means you can store and manage it on the web, and access anywhere and share anyone
- while your devices connects to Internet) and a place where you can create, share, collaborate, and keep all of your stuff. Whether you're working with a friend on a joint research project, planning a wedding with your fiancé or tracking a budget with roommates, you can do it in Drive. You can upload and access all of your files, including videos, photos, Google Docs, PDFs and beyond.
On what I myself like and confirmed to use it are two features: the first one,

Store everything safely and access it anywhere (especially while on the go)

and the second,

Search everything [Search by keyword and filter by file type, owner and more. Drive can even recognize text in scanned documents using

Optical

Character Recognition (OCR)

technology. Let's say you upload a scanned image of an old newspaper clipping. You can search for a word from the text of the actual article. We also use image recognition so that if you drag and drop photos from your Grand Canyon trip into Drive, you can later search for [grand canyon] and photos of its gorges should pop up. This technology is still in its early stages, and we expect it to get better over time.

]. Oh, I forget that I like this point too,

View Anything

(

Open over 30 file types right in your browser—including HD video, Adobe Illustrator and Photoshop—even if you don't have the program installed on your computer

)
*Note: just inform that if you use the service, it's also integrated with other Google services (Google Search, Gmail, Google+ etc.)
How big does it offer for Free and Paid?
You can get started with 5GB of storage for free—that's enough to store the high-res photos of your trip to the Mt. Everest, scanned copies of your grandparents' love letters or a career's worth of business proposals, and still have space for the novel you're working on. You can choose to upgrade to 25GB for $2.49/month, 100GB for $4.99/month or even 1TB for $49.99/month. When you upgrade to a paid account, your Gmail account storage will also expand to 25GB.
Even though it's 2GB of storage size smaller than a cloud service of Microsoft, SkyDrive, but I think it's still good becuase its File Size Limit more bigger than others (it's up to 10GB per file).
The below image can show you some comparison with other cloud-computing storage services (SkyDrive, Dropbox, Box, and Sugar Sync).
Image source: PCWorld










|
Resource: Official Google Blog
|